Acorn uses the Outcome Star to help you plan your support around what you want to achieve.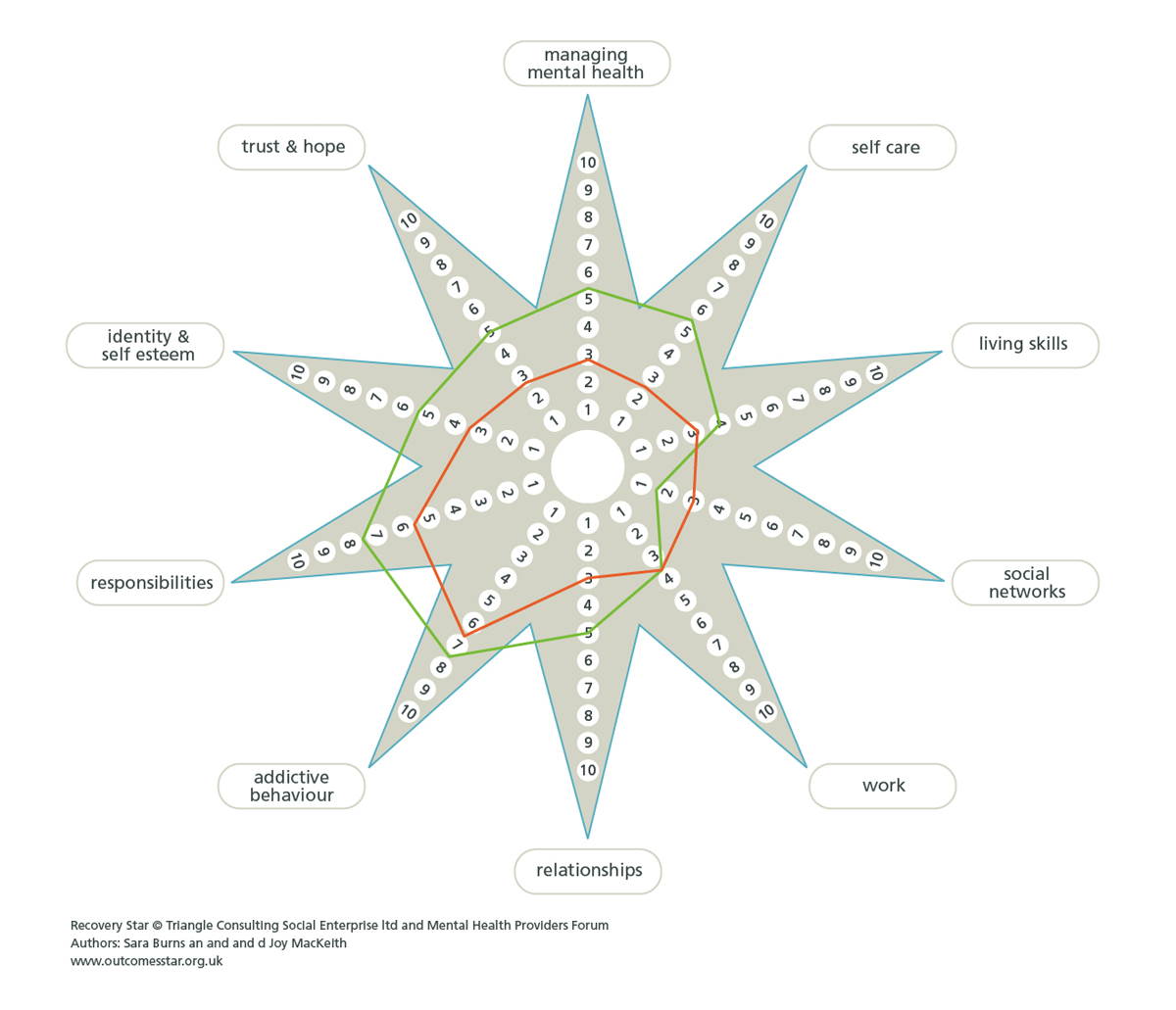 The Outcome Star helps you to do 3 things; to assess how you are doing right now, to plan the support you need to achieve what you want in the future and to also track your progress over time.
The star helps us to focus our support on exactly what you want and also to help you become more and more independent over time. This is important because often it is necessary to reduce your support over time (if that works for you).
Acorn will help you complete the star, but it is your choice, and you choose which area of your life you want to make changes to depending on what you feel would benefit you most. For example Acorn creates stars around:
Alcohol dependency
Family issues (for tenants who are parents)
Mental health and recovery.
Learning Difficulties (for tenants who want to manage this better)
Autism and Asperger syndrome (for tenants who want to manage this better)
Being an older person
Looking after health ( for tenants who have long term physical health issues)
Work (if a tenant's main focus is to be employed)
As our support plan is visual, it shows how things are for you right now. It shows which areas are OK or good and which areas you may want to make improvements or changes to during your time with the Acorn service.
It prompts thoughts and discussion such as:
Where you might want to get to by the next review
What needs to change in order to get to that point?
What needs to be done to make that change happen
Who will do those things?
Would it help to set a deadline for these things?
Is help or support needed from other people?
How and when a support plan is completed
The first star plan is completed as early as possible after the start of the service, but allowing enough time for the support worker to get to know you a little. Therefore a plan is normally completed 3-4 weeks after the service begins.
Afterwards, plans are completed regularly for the duration of the service.
For short term services (up to 2 years), a plan is usually completed every 3 months.
For long term services (over 2 years), a plan is usually be completed every 6 months.
Finally, when you leave the service, outcomes are recorded to show the progress you have made since the service started